We have an action-packed year, take a look at what we do in the average twelve-month period:

CRAFTNIGHT: Weekly/Ongoing
By the age of 12, the average person's creativity declines down to 2% of our potential and generally stays there for the rest of our lives.
Run by artists for all people, CraftNight strives to bring forth the underutilized artistic talents of the greater public.
This mission is performed by incorporating an atmosphere of bohemia and great cordiality. Art projects may be seasonal, or in response to current events, or for the sheer joy of making work any time of year. CraftNight has serviced the community in places such as the Hammer Museum, The Craft and Folk Art Museum, The Skirball Museum, and the California Science Center, as well as many parks and public spaces. CraftNight has been around eighteen years and running (that's 750 CraftNights!), its main home is Akbar, in the heart of Silverlake on the corner of Sunset and Fountain.
CraftNight is every Wednesday. Learn more, and come visit!
---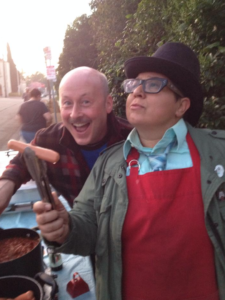 SUPER SLOPPY CHILI CHEESE DAWGS LA MARATHON: Annually/March
Conducted annually (eight years and running) on Edgeware Street in Echo Park, Ca, Sparkleblob runs this spirit leader gathering to endorse and cheer and serve chili dogs to marathon participants. We dress up, play music, cook and serve free chili dogs to bicyclists/wheelers/runners/walkers, and we cheer every single person who passes by, offering them our support, as well as the chance to take part in having to make a decision that is strange and absurd (ie: "Should I eat a Super Sloppy Chili Cheese Dog?") Check out the year we did Valentine Chili Cheese Dogs
---
YURI'S NIGHT: Annually/April
The mission of Yuri's Night is to use the excitement and inspiration of space as a catalyst for educating and developing the next generation of explorers. Sparkleblob has a performance and crafts presence at Yuri's Night under Space Shuttle Endeavor at the California Science Center every year. Past projects have included a fortune-telling robot puppet interacting with guests, performing/singing on stage for astronauts as space traveling technicians, creating science-themed stickers for visitors to color in and take home.
---

BICYCLE ADVENTURES IN YOUR TOWN: As Scheduled
Since 2004, we have specialized in leading informative and educational small-batch boutique supported bicycle tours about science, architecture, street art, film locations, hot dogs, romance, celebrity scandals and many other subjects easy to cover in the City of Los Angeles. Tours usually involve about five stops, explain the history of a location and trivia, with handmade crafted spoke cards, route slips and special souvenirs of the journey. Some stops have historical impersonators or characters that pop out to say hello and perform for or explain a bit to our riders.
---

POSTER PAINTING PARTIES: As Scheduled 
These are as needed in the Los Angeles community, from West Hollywood to Elysian Park. Whoever wants to exercise their second amendment rights to peacefully protest, we provide posterboard and other art materials and guidance for how to voice one's concerns in an organized, respectful way. Participants then attend marches outside of our workshops. This spring and summer we held two of our own Sparkleblob sign salons, and four with WehoArts as part of their 2017 "40 Days of LGBTQ Arts" Pride campaign.
---

DocuMART™: Virtually/As Scheduled
DocuMART™ is an ongoing art installation that was originally accepted and practiced in Kingman, Arizona as a part of the High Desert Test Sites art exhibition and is still active in Los Angeles today. DocuMART™ focuses on citizenship, marriage equality, freedom, governance and, humanization of the individual. Bridging the gap between standard paperwork procedures and the essence of humanity, our office processes and matriculates people into a system. Visit us on Facebook
---
GOTHTOBER: Annually/Virtually/October
Created and curated annually since 2001, The Gothtober Countdown Calendar™  is an international online film and art festival advent-style calendar that counts down the days to Halloween, a different artist behind each calendar day. Every day a new artist/filmmaker is revealed. Gothtober's extensive online archive contains over 300 little independent films and art pieces, all visible and up for the public to view. The headquarters for Gothtober are in Los Angeles, but anyone in the world can view it at any time from their phone or other device. 
---
SPARKLEBLOB ANNUAL HOLIDAY SHOW: Annually/December 
This is our annual holiday puppet performance held in LA County, it involves writing, rehearsing, performing, singing, and it is our end-of-the-year gift to our community, and how we raise money for our programs for the following year. It has become a tradition with LA families, something strange, magical and unique during the holiday season. There are kids who have been going to this show since they were small, and they're now all taller than us and in college!